» Guides » Convert XAVC S to ProRes
XAVC S to ProRes - Convert 4K XAVC S to ProRes on Mac
XAVC S is a subset format of XAVC. It supports 1920x1080 and 3840x2160 pixel version, known as Quad Full HD, QFHD, UltraHDTV or UHDTV. XAVC S, which is originally designed for high-definition camcorders use for digital recording and high-definition video playback. XAVC S is the consumer format, and it's wrapped in an MPEG-4 (.mp4) container. and uses either AAC or LPCM for the audio. It's optimised for consumer use. XAVC S is always 8-bit but, unlike AVCHD, it is designed for 4K.

Questions about can't edit XAVC S in DaVinci Resolve and Final Cut Pro
Why I can't play 4K XAVC S files in DaVinci Resolve 16? - Greg Darling
DaVinci Resolve is a powerful professional non-linear editing program with which users can edit and grade the video in real time. The video files with the file extensions that DaVinci Resolve support include: MP4, ARI, MTS, MXF, MOV, AVI, CIN, DNG, DPX, RMF, CDX, DCP, EXR, TIFF, VRW R3D, JPG, J2C, etc, but which does not mean every video format on the above supporting list can be imported into DaVinci Resolve successfully. The video codecs in the supporting video format also decide whether the video file can be edited successfully or not. In Davinci Resolve supported video format, codec and extension page, we see that Davinci Resolve only supports MP4 encoded with H.264. In order to import and edit XAVC S footage in DaVinci Resolve smoothly, you'd better to convert XAVC S to Apple ProRes codec or DNxHD codec via video converting software.
I spend long time on rendering XAVC S videos in FCP X, how to solve this problem? - Beatrix Dunn
Final Cut Pro X is a professional non-linear video editing application published by Apple Inc. as part of their Pro Apps family of software programs. It was released on June 21, 2011 for sale in the Mac App Store. Apple has released the latest version of Final Cut Pro X, version 10.4.6. The update is dominated by stability improvements and bug fixes, but it also contains one major new feature pertaining to future versions of macOS. However, Apple Final Cut Pro does not currently support XAVC S natively. What if you want to work with XAVC S files in Final Cut Pro X or FCP 7? Luckily, the problem is easily to solve - all you have to do is transcode XAVC S to Final Cut Pro friendly codec like ProRes. Along with some help from a third-party program like Acrok Video Converter Ultimate for Mac, you can easily achieve your goal smoothly.
Best software for converting XAVC S to ProRes Codec
As a professional yet easy-to-use XAVC S encoder and decoder, the program can effortlessly convert XAVC S video to ProRes 422/4444 encoded MOV files - ensuring maximum editing quality and efficiency when working with DaVinci Resolve and Final Cut Pro. In additon, the program can also help you transcode XAVC S .mp4 files to Apple Intermediate Codec, DNxHD, MPEG-2, H.264, HHVC/H.265, etc. for smoothly editing or playback with iMovie, Media Composer, Premiere Pro, Lightworks, etc.
Below is the detailed guide on transcoding XAVC S to ProRes on Mac.
How to convert XAVC S to ProRes 422/4444 on Mac?
1. Install and start the powerful Apple ProRes Converter - Acrok Video Converter Ultimate for Mac, install and then run this best XAVC S to ProRes Converter, the following interface will pop up. Click "Add file" icon to add XAVC S files to this program. Dragging and dropping .mp4 to Acrok software is also OK.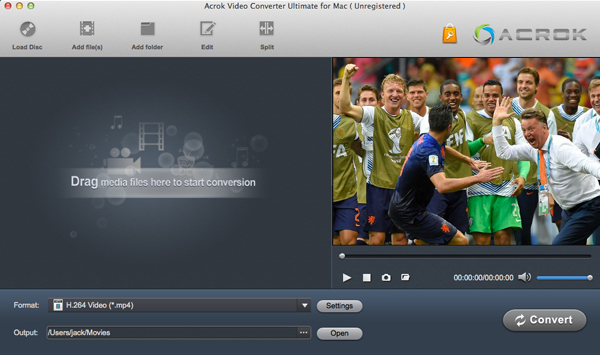 2. Click "Format" button to select Apple ProRes 422 (*.mov) or Apple ProRes 4444 (*.mov) as the output format from the "Final Cut Pro" category.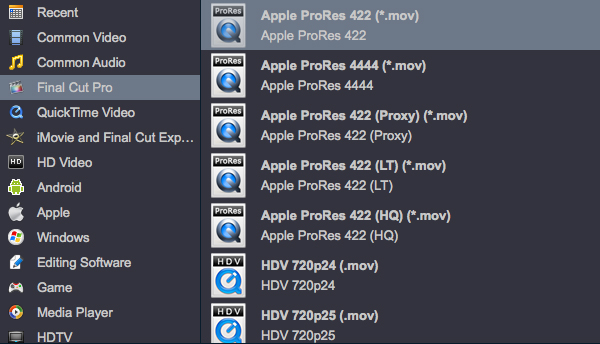 3. Customization feature is available in the XAVC S to Apple ProRes converter, adjust the output parameters as you like. If you want to get the orginal video resolution, please select "Orginal" in "Resolution" column.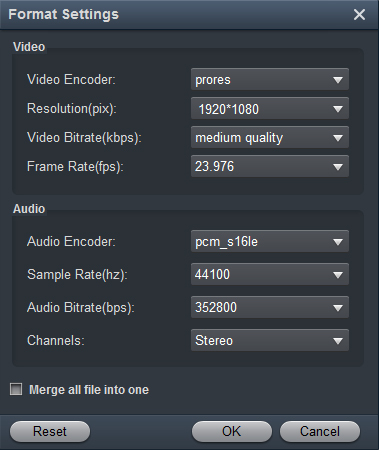 4. Click "Convert" button to start encoding XAVC S to Apple ProRes MOV on Mac. Once the XAVC S to ProRes conversion is done, you can transfer your XAVC S footage into Final Cut Pro X or DaVinci Resolve 16 for editing smoothly on Mac with ease.
Mac ProRes Converter
20% Off Coupon Code:
ACRO-LD93-NLID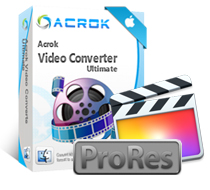 Free Download

Awards




Solutions
Categories
Canon
Nikon
Sony
Panasonic
JVC
Other
Awards
CNET "Top Converter"
PCWorld Reviewed "Powerful."
CNET Editor's Pick
Lifehacker "Best Editor"
Full Antivirus Test-Clean